Reykjavik Dinner Cruise
Dine with Special Tours on the Andrea sailing Reykjavik Bay
You can see the beautiful blue and white boat down at Reykjavik's Old Harbour. Every Friday evening through the summer, it slips its moorings to sail around the Faxafloi Bay, filled with diners enjoying a full 5-course meal, courtesy of Korpar, one of Reykjavik's top restaurants.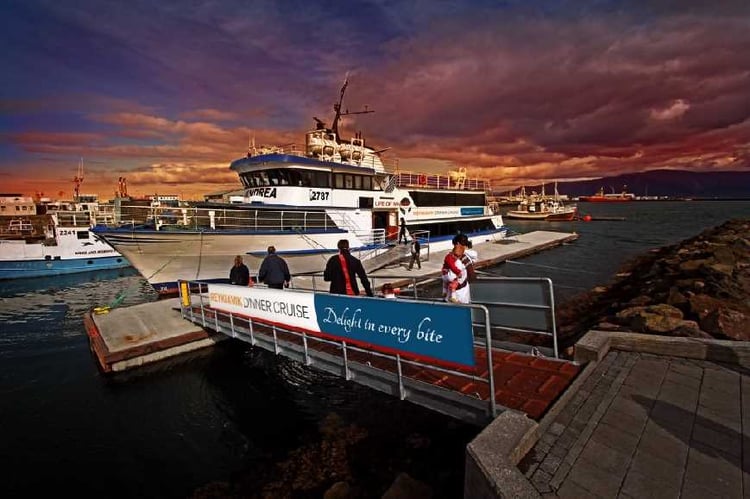 You are greeted by a welcome drink as the ship sets sail, surrounded by the luxurious surroundings of the Andrea, listening to the strains of the live instrumental music in the background.
The view, with the sun starting to sink toward the western horizon, turning the sky a flaming red and gold, is outstanding. On one side of the boat, you see Reykjavik's skyline and the Harpa concert hall in a new light while, on the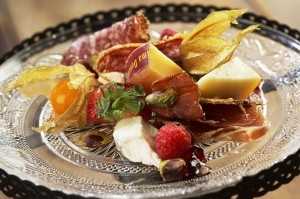 other side, the Snæfells glacier gleams in the evening sunshine.
As you eat, the Andrea cruises around the islands in the bay – the historic Viðey and Engey islands. You'll probably see the puffins caring for their fledglings or relaxing after a day's food gathering.
The dinner, as you would expect, is mouth-watering and full of flavour. Here, you can eat in comfort, unrushed, being served by diligent waiters and waitresses with a top class meal. A full complement of wines and spirits are available to go with the dinner and a decadent dessert rounds off the beautiful evening.
Special Tours
Reykjavik Old Harbour
Aegisgardur 13
101 Reykjavík
Iceland
Tel: + 354 560 8800   
[email protected]
www.specialtours.is