Interview with Ólafur Ragnar Grímsson, former President of Iceland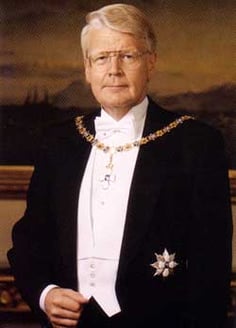 Ólafur Ragnar Grímsson, President of Iceland [1996–2016], was born in 1943 in the town of Ísafjörður (Fjord of Ice) in Iceland's remote Westfjords. Isolated, out at the farthest point in the High North, until World War II, Iceland was one of the world's poorest nations, still under the Danish rule of King Christian X.
Iceland's rise is one of the 20th century's biggest adventure stories …
Iceland's silent revolution
A silent revolution was taking place in Iceland in the 1930s. Iceland's capital, Reykjavík, started using geothermal water to heat houses instead of coal, which was responsible for the heavy pollution that turned the skies black. They began drilling for hot water in the 1940s – which intrigued UK Prime Minister, Winston Churchill at the time. They began harnessing glacial waters in the 1960s, creating abundance of electrical power and springboarding the country's industrialisation.
Fifty years after Reykjavík municipality had started the geothermal revolution, the groundwork was laid for the 'big leap', with the Geothermal Power Plants at Svartsengi (Black Meadow) that created the magical Blue Lagoon, and Nesjavellir (Peninsula Fields) just south of Þingvellir (Parliamentary Fields), where the world's oldest and longest running national Parliament was founded in AD 930.
These power plants were Iceland's crown jewels, generating electricity and producing hot water for district heating. Iceland had become the cleanest country on the Earth and a world leader in geothermal energy. Living standards rocketed to the world's top five.
Iceland's first PhD in political science
In 1962, the young Grímsson had gone as a student to Manchester, England to study and became Iceland's first Doctor of Philosophy (PhD) in Political Science in 1970. He returned to Iceland and in 1973 became the University of Iceland's first professor of Political Science. He served as a member of the Althing, Iceland's Parliament, for the People's Alliance between 1978-1983. He was a member of the Parliamentary Assembly of the Council of Europe and became President of Parliamentarians for Global Action, receiving the Indira Ghandi Prize in 1986. He then served as finance minister 1988-1991 and was re-elected to the Althing and served from 1991-1996, when he was elected the country's President. Ólafur Ragnar Grímsson served as President of Iceland from 1996-2016. He succeeded Vigdís Finnbogadóttir, who in 1980, was the first woman elected Head of State.
The four focal points
I sat down with the former President at Reykjavík's Hilton hotel in late August. It is three years since Ólafur Ragnar Grímsson stepped down from the Presidency. However, he is very active with the annual Arctic Circle Assembly in Reykjavík. When Ólafur Ragnar was elected President of Iceland in 1996, a new millennium was approaching; the 21st century was just around the corner.
"In the first years of my Presidency I pondered what would matter most to Iceland in the coming century. I came to the conclusion that four main issues would dominate; global warming; geothermal energy; the Arctic and the rise of Asia. So, in my second New Year Address to the Nation, I started to discuss some of these issues," Mr. Grímsson says.
On 1st January 1998 President Grímsson addressed climate change and advocated Iceland taking a lead among the nations as dramatic melting was taking place in the Arctic. "We Icelanders should lead international demands for immediate radical measures to counter climate change, embrace cooperation among nations, advocate abandoning fossil fuels and promote new technologies of environmentally friendly energy. Joyfully we should embrace opportunities in the Century of the Environment as we tackle projects that present themselves with our wit and knowhow."
World leader in Hydro- & Geothermal Energy
President Grímsson stressed Iceland's unique experience as world leader in Hydro- and Geothermal Energy, abandoning coal and oil for heating. In September 1998, in a speech at Rovaniemi University in the north of Finland, President Grímsson put forward the idea of Arctic cooperation. "Few were in attendance; scholars and nerds. There were many sceptics but I was convinced that this was the way forward," he stresses.
Emerging Asian markets, with China's and India's populace growing middle classes and colossus economies, offered huge opportunities. To prosper and stay on top of the world, Iceland needed to keep its focus on the East, as well as what was happening in Europe and America, the President argues.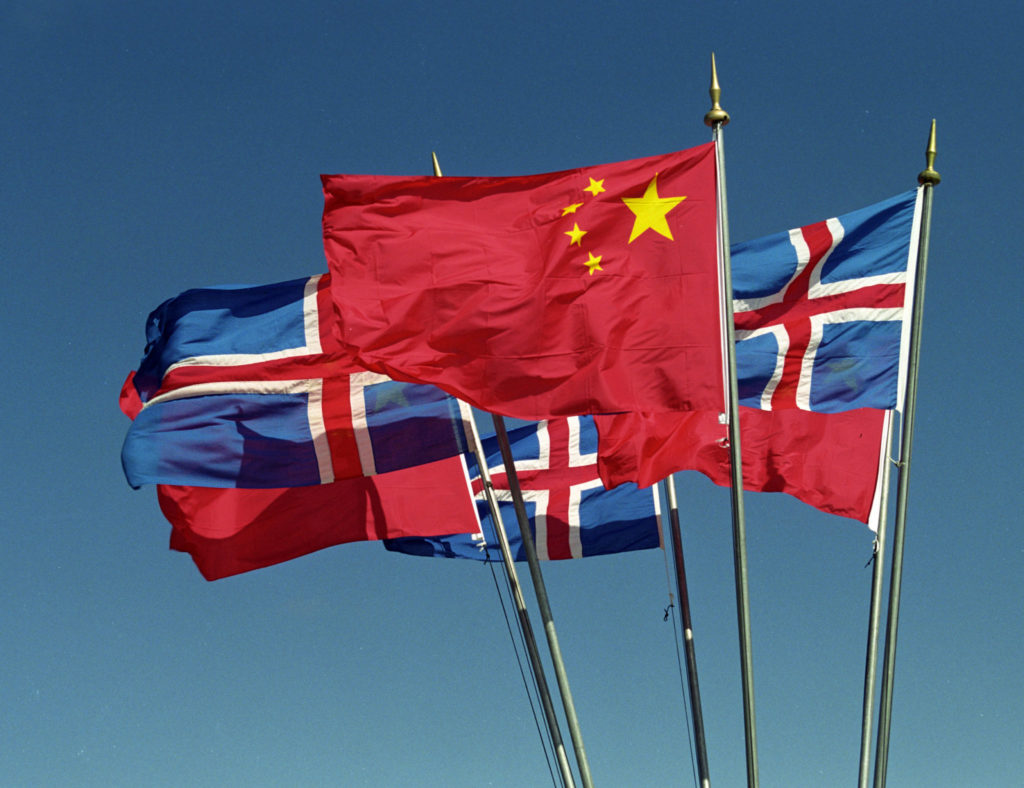 "It was imperative to create a vision of Iceland's role on the global stage in a new millennium. The US had become our most important trading partner in the middle of the 20th Century. New challenges were imperative as Iceland defined its role in the 21st Century. Asia's phenomenal economic rise could be a similar springboard for Iceland as had been the case with the US fifty years before," President Grímsson says.
Outspoken on the rise of Asia
During these years Mr. Grímsson was outspoken on the rise of Asia, with India and China becoming economic power-houses. He advocated closer relationships and trade deals with Asia. He was much criticized for his stance by those who wanted to join the European Union as the EU had started its expansion to Northern & Eastern Europe after the collapse of the Berlin Wall and the Soviet Union in 1991. While Sweden and Finland joined the EU, Iceland joined the European Economic Area in 1995 along with Norway but refused full membership of the EU. The energy rich Norway, Iceland and Switzerland went their separate ways among the European nations.
Personal tragedy & a letter to President Jiang Zemin
However, personal tragedy was to strike as the First Lady, Guðrún Katrín Þorbergsdóttir, became seriously ill with leukaemia. In the summer of 1998, she flew to Seattle for treatment but sadly passed away later that October.
While staying at Guðrún Katrín's bedside at the hospital in Seattle, the President started working on an extensive letter to the then President of China, Jiang Zemin. President Grímsson already had close ties with Indian leaders and had a great personal relationship with the late Prime Minister Rajiv Ghandi but was less informed on China. He had gone to China in the early nineties with former Prime Minister Steingrímur Hermannsson as a member of what they called the 'Hermannsson's delegation'. In Shanghai they were shown a Lego-model of skyscrapers, reminiscent of Manhattan and their hosts were adamant that Shanghai would be a thriving city in the 21st century.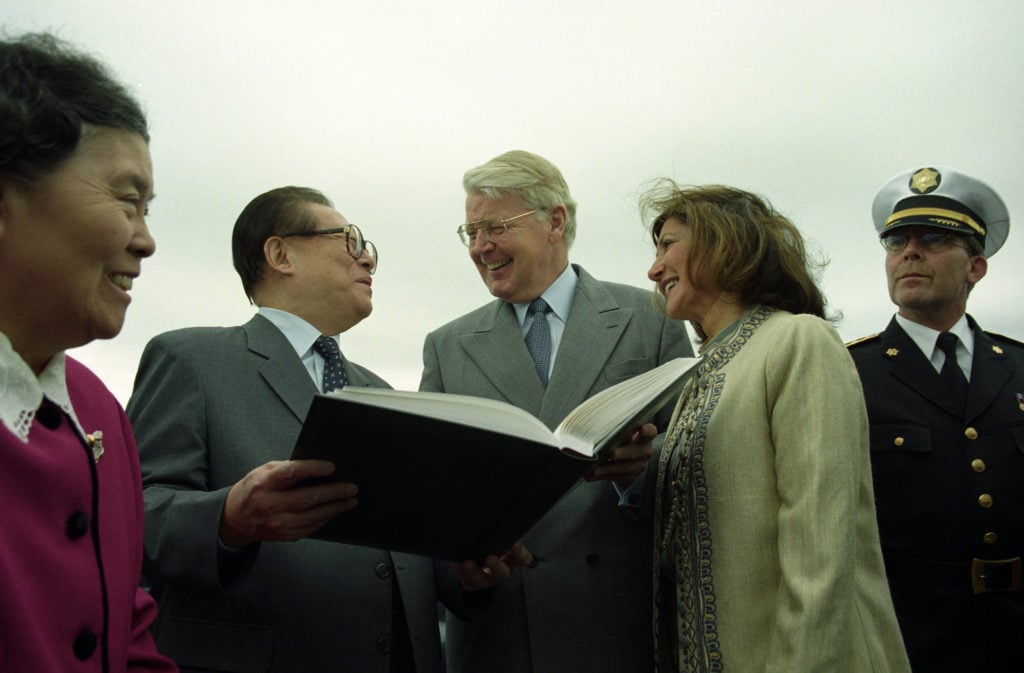 The United Nations University Geothermal Training Program had been operating in Iceland since 1979 with many Chinese students. Iceland had opened an embassy in Beijing (Peking) in 1995. It became active in promoting geothermal solutions and assisted with establishing a geothermal laboratory in Beijing's port city, Tianjin. Then, at the turn of the century, the Icelandic geothermal company Enex advised on the geothermal heating of the Olympic village in Beijing (Peking). However, the relationship between the two countries was about go to the highest levels.
In his letter to President Zemin, President Grímsson proposed co-operation between the nations on many of the issues which would be become important in the 21st century; including clean energy transformation to combat climate change. China was experiencing economic growth unparalleled in history as hundreds of millions were coming out of poverty and the middle-class grew at a rate never seen before. China was also seeing the peaceful return of Hong Kong from Great Britain and of Macau from Portugal.
President Grímsson's trip to India
President Grímsson was invited on a State Visit to India in the year 2000, at the turn of the new millennium. India showed President Grímsson exceptional respect. He was the first President of Iceland to visit India and was warmly greeted by K.R. Narayanan, President of India.
The same year he got engaged to Dorrit Moussaieff and they were married on President Grímsson's 60th birthday in 2003. Iceland's new First Lady was born in Jerusalem and raised in the United Kingdom from a young age.
President Zemin's visit to Iceland
In June 2002, after four years had passed since the letter was written, President Zemin came to Iceland on a State Visit. The two Presidents went to Nesjavellir Geothermal Power Plant. President Zemin, an engineer himself, and his delegation, many of whom were also engineers, were highly impressed at what they saw. Green Energy had increasingly become a pressing issue as China's oil and coal consumption had rocketed and black skies full of pollution were overwhelming its cities.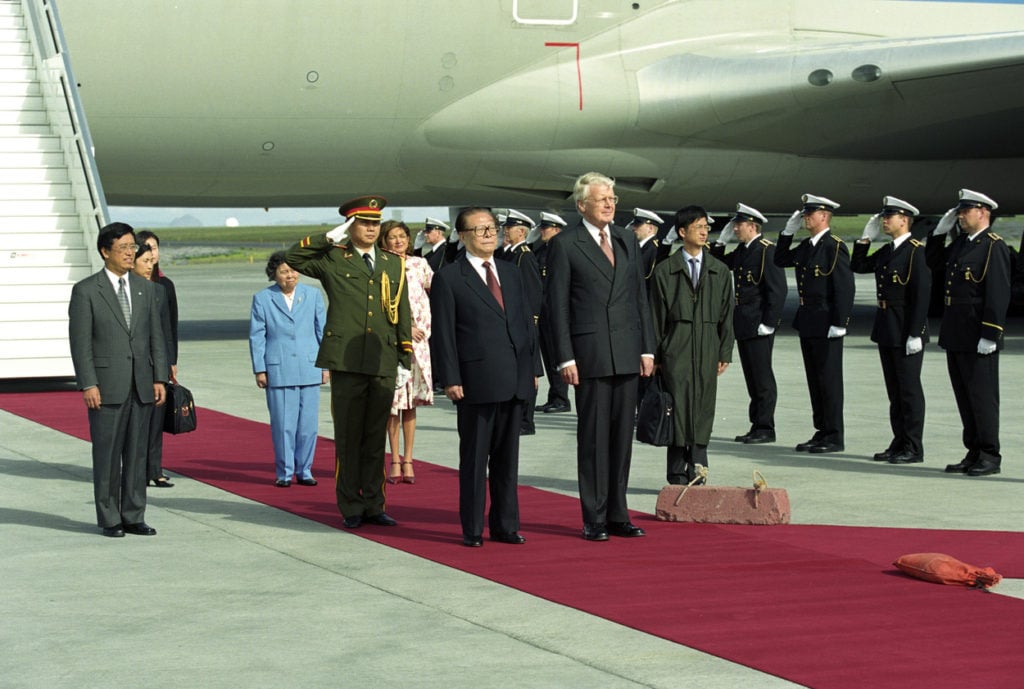 President Zemin's visit to Iceland was very successful, to say the least, and President Grímsson's letter turned out to be the foundation of future relationships between Iceland and China. Nesjavellir is an engineering masterpiece and the visit made a lasting impression on President Zemin.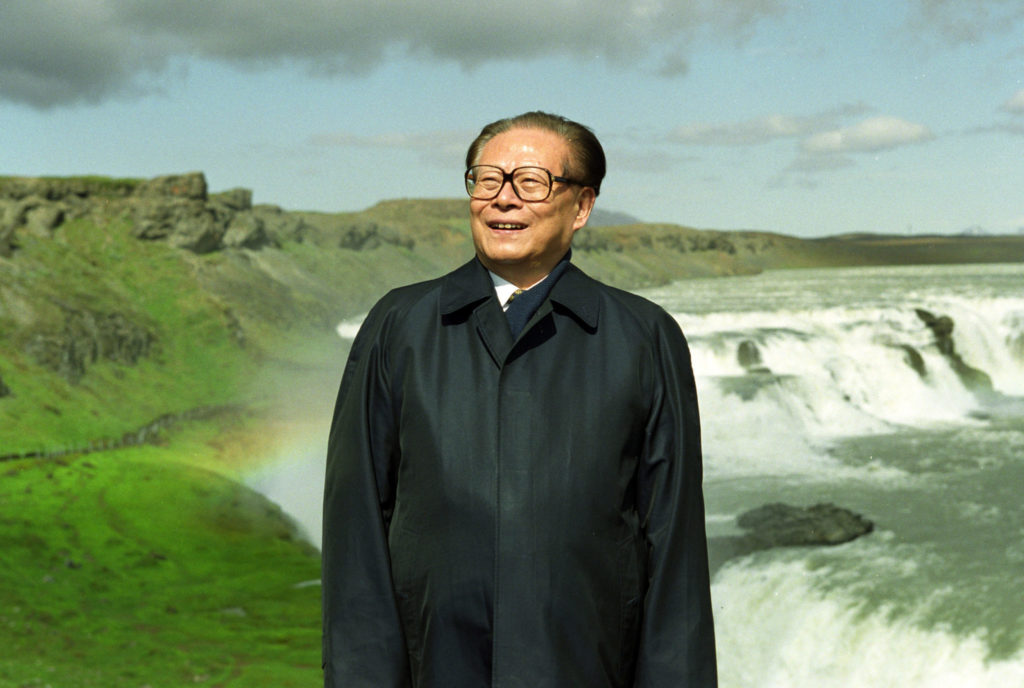 China fast tracks Geothermal Energy
When President Zemin arrived back in China, inspired by the Icelandic model, he gave orders to fast-track Geothermal Energy to replace oil and coal for district heating. China was going to copy the Icelandic model. In 2003 President Zemin stepped down and Hu Jintao became his successor. China was emerging as a major world power on the global stage.
Presidential visit to China
In 2005 Mr Grímsson made a one-week State Visit to China, accompanied by 400 fellow countrymen, including many business leaders, travelling by Boeing 747. The Icelandic President met with President Hu Jintao for the first time and also Premier Wen Jiabo as well as other dignitaries. President Hu had been in office for two years. "Having established close relationships with China during President Zemin's time in office, my visit to China was highly successful and President Hu continued where President Zemin had left off. As well as visiting Peking, we visited Qingdao and Shanghai. It was an amazing experience as the Lego model I had seen on my visit in the early nineties had materialized into real skyscrapers, with people everywhere on the streets. The Chinese are truly exceptional people. They think long term and 50 years are, in their mind, a short time span," President Grímsson says.
Grímsson meets Xi Jinping in Peking
President Grímsson went again to China, this time attending the 2008 Olympics in Peking, where the Icelandic handball team had reached the final of the handball event. At a luncheon, President Grímsson met the future President, Mr. Xi Jinping, for the first time. "I asked Mr. Xi a question on what he thought were the most pending issues facing China. I found his answer especially interesting and I have often quoted his answer: "Our mission is to create prosperity for our people without harming others."
Crisis in Iceland & Icesave Referendums
However, just a few months later, disaster struck. The Icelandic banks collapsed in October 2008. Iceland was in desperate need of support. The collapse of the banking system was the largest experienced by any nation in economic history. The country came under economic attack by the UK with Brussels' support and was put on the UK terrorists list. Europe demanded billions of dollars for so-called Icesave accounts in the UK and Netherlands. The old colonial powers put on an ugly face. The US turned its back on Iceland.
The leftist government that came into power in February 2009 wanted to appease Europe and applied for membership to the European Union and agreed to the UK's demand to pay the Icesave reparations. The Althing twice passed bills to agree to Europe's demands. President Grímsson twice refused to confirm the bills. The Icelandic Nation, as a consequence, twice went to the polls in national referendums. The nation twice refused the bills, basically refusing to pay the banksters' reckless negligence that was jeopardising the nation's independence and threatening to cast it into poverty. The stakes couldn't be higher. The Icelandic nation's right to refuse payments was later confirmed by the European EFTA court.
Iceland turns to China in hour of need
Iceland was in need of a friend. "China's support during Iceland's hour of need must never be forgotten as Europe, as well as the USA turned against the country. One of the primary leaders of the Federal Reserve simply stated: Iceland is not any longer in the US area of interest," President Grímsson comments.
"I wrote a letter, after consultation with then Prime Minister Geir Haarde, to President Hu Jintao outlining Iceland's difficulties. It was by no means a foregone conclusion for China to assist tiny Iceland—a western nation and a member of NATO. Subsequently, a currency agreement was signed between China and Iceland and China later sent a high-ranking delegation to Iceland.
The preoccupied Icelandic media, with their focus on Brussels, did not pay attention to this unprecedented act of friendship. However, China's support did not go unnoticed in London, Washington, Berlin, Brussels and Scandinavia's Copenhagen, Oslo, Stockholm and Helsinki—all countries that had turned against Iceland. China was a staunch supporter of Iceland within the International Monetary Fund, as the European nations made crisis loans to Iceland conditional on payments of billions of dollars of Icesave demands. Iceland refused and China stood by Iceland in the IMF at these times of crisis. The following year China's President of the Central Bank paid Iceland a visit. The signal was a clear as daylight. China is a friend of Iceland.
India, too, showed Iceland exceptional respect by again inviting President Grímsson on a State Visit, this time in 2010, when he was honoured with the Nehru Award. India's President Abdul Kalam had been to Iceland in 2005. The respect Asia's most populous nations were showing Iceland was out of the ordinary, to say the least.
Xi Jinping & Relativity of Size
Xi Jinping became President in 2013. He went on high profile visits to the United Kingdom and the United States and addressed the Global Economic Forum in Davos, Switzerland. Times were changing. The same year, Iceland became the first European country to sign a Free Trade Agreement with China. Washington, London, Brussels and Berlin took notice. The Agreement was signed as Iceland's left-wing government's bid to join the European Union was collapsing due to the EU's insistence on taking control of Iceland's fishing grounds and thus turning the results of the Cod Wars on their head.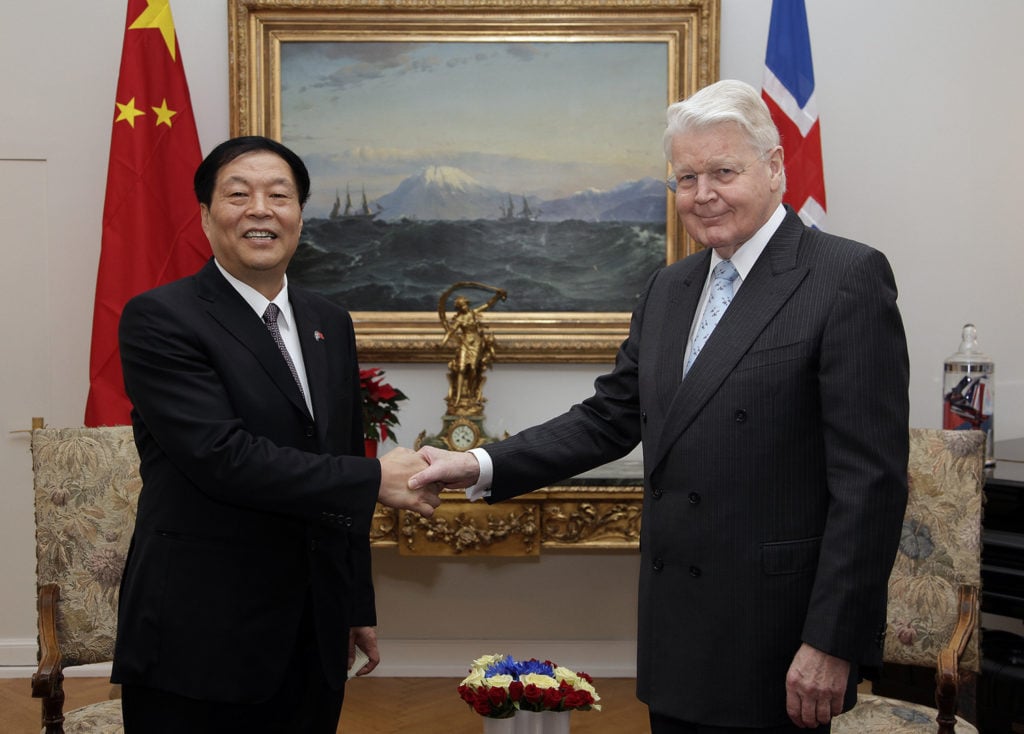 Arctic Circle Assembly
China received observer status in the Arctic Council in 2013 on the initiative of Sweden's Foreign Minister, Carl Bildt, with US Secretary of State John Kerry's agreement. At the same time, President Grímsson launched the international Arctic Circle Assembly. Held annually in Reykjavík, its mission is to facilitate dialogue among political and business leaders, environmental experts, scientists and indigenous representatives. The Assembly has been a huge success. "China has been a prominent attendee at the Arctic Circle Assembly," President Grímsson says, and continues, "People ask why the world's biggest and most powerful nations should be talking to tiny Iceland. The answer is straightforward. Size doesn't matter. It doesn't matter whether you come from a nation of 300 million or 300 thousand. It matters what you have to say. Iceland's geothermal knowhow is unique. China is copying Iceland's model with dramatic effect. It's part of China's escape from oil, coal and black skies. The model could help China to move away from pollution as it saved Iceland," Mr. Grímsson says.
He points out that approximately 50% of energy consumption is for heating and cooling cities; with oil and coal overwhelmingly heating houses and water. If mankind masters city pollution, the battle against global warming will be won. The Iceland-China model could contribute to saving the world. Arctic melting leads to violent storms in China and around the world. Higher sea levels threaten cities and even nations. Science has changed public perception and awareness. As a rising economic power on the world stage, China needs energy and raw materials. Its leaders are aware of the challenge as are the public. The protection of the environment has become a major issue. The Icelandic leadership on the Arctic is there for all to see.
Arctic Green Energy and Sinopec
In spite of the political storms in Iceland in 2008 which delayed the implementation of the geothermal model, the tide was not to be turned on Iceland-China cooperation. In 2011 Arctic Green Energy emerged under the leadership of Haukur Harðarson, who had settled in Saigon, Vietnam in 1992. The mission was to export Iceland's success in geothermal energy. Haukur joined hands with the Sinopec Group – China's largest and the world's 3rd largest company.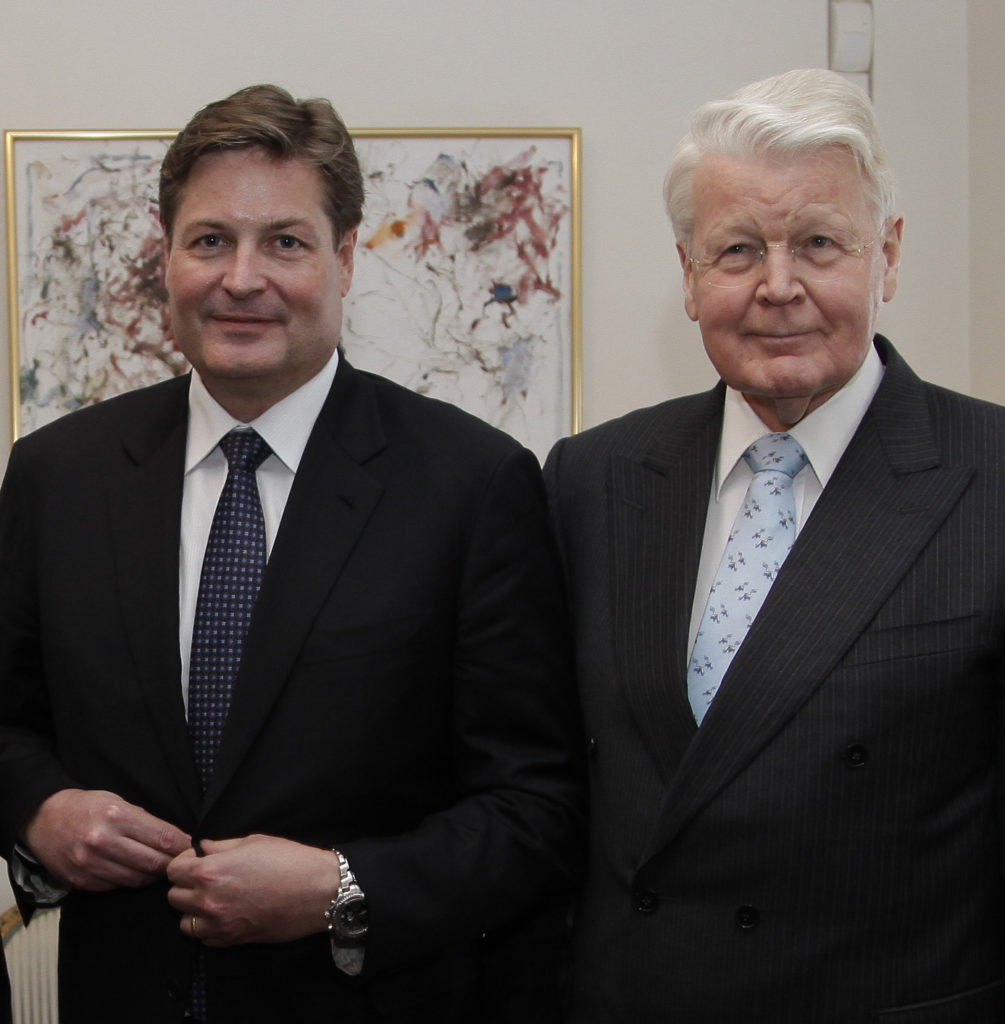 An agreement of co-operation between Arctic Green Energy and the Sinopec Group was signed, witnessed by Icelandic Prime Minister, Jóhanna Sigurðardóttir and China's Premier, Wen Jiabo. The leaders were keen to follow the geothermal journey as they believed it had something special to offer the world. Sinopec Green Energy was founded and President Grímsson would visit Sinopec Green Energy in China. Haukur Harðarsson would later say, "President Ólafur Ragnar Grímsson's role in building the geothermal relationship between Iceland and all of Asia cannot be overstated. As a head of state, he stood out among his peers as a man of vison and passion, with a strong credible voice for environmental affairs, long before it became fashionable."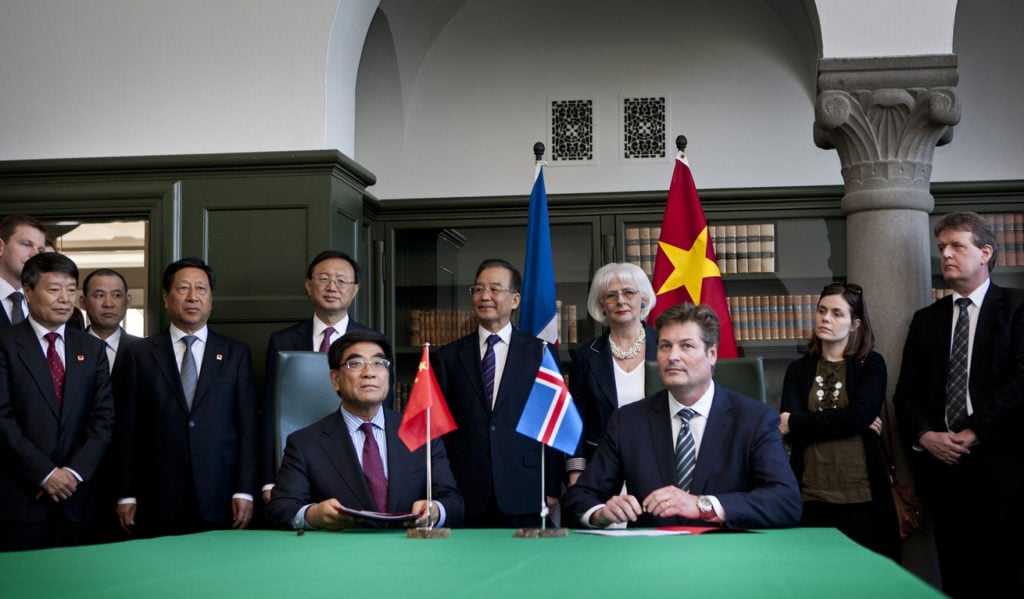 Sinopec Green Energy's phenomenal success
As we approach the third decade of the 21st century, the Icelandic-China Geothermal model is gathering pace beyond belief. Sinopec Green Energy's success in China is phenomenal; in fact, revolutionising China just like it revolutionised Iceland in the 20th century. In just a few years, Sinopec GE has become the world's largest geothermal company and drilled over 520 wells and started operations across 60 cities and counties in China; mostly in Hebei, Shaanxi, Shanxi, Shandong and Tianjin, now working in Xiongan city outside Beijing; China's first "smog free city" is emerging as a global showcase of sustainability.
China's geothermal revolution
Sinopec Green Energy operations have reduced CO₂ emissions dramatically. SGE has close to 50 million square metres heating capacity, serving more than 2,000,000 customers with 399 heat centrals. All in just a few years. Sinopec GE has proven that the most effective way of reducing air pollution and greenhouse emissions is to replace oil and coal with district heating systems driven by geothermal energy. China is emulating Iceland's miraculous rise to good effect and is itself being revolutionised by the Icelandic model.
Ólafur Ragnar Grímsson stepped down as President of Iceland in the summer of 2016. A few months later, he was invited to China to witness the Sinopec Green Energy miracle with his own eyes. The reason was the 10th anniversary of geothermal cooperation and the 45th anniversary of diplomatic relations between Iceland and China. It was their way of saying thank you, President Grímsson, for the Iceland-China model that may be turning out to be saving the world.