Snæfellsnes
While Snæfellsnes peninsula's stunning landscape has captured the imagination of people all over the world, even before Jules Verne wrote his widely known "Journey to the Centre of the Earth" – one must know that it is an endless source of magic. As for facts that might put a spark in someone's heart, here are a few  as follows: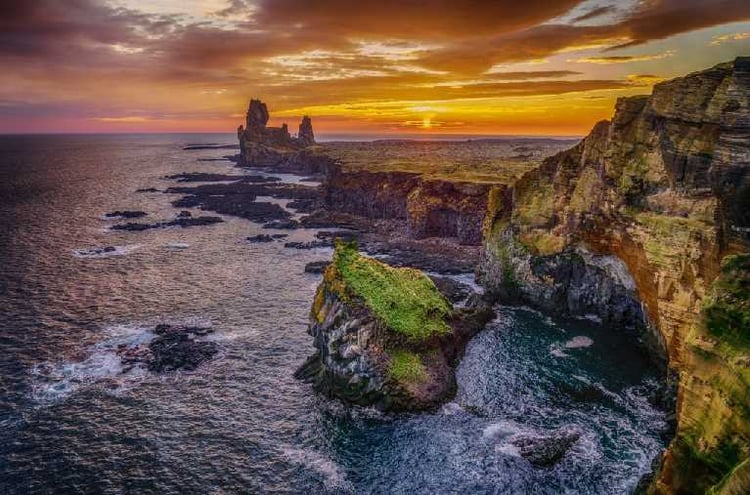 – Golden and pink beaches do exist in Iceland's rugged nature – right on the
Snæfellsnes peninsula. Respectfully at Rauðisandur and Bárðarströnd.
– If you have an eye for extraordinary rock formations, one of the longest and most beautiful basalt column belts in Iceland can be found on Snæfellsnes peninsula, the highest being ca. 10-14 metres.
– Thirsty for some fresh, perhaps a bit warm, carbonated water? You guessed it – in Snæfellsnes there are several natural mineral springs where carbonated water comes straight from the ground. Perfect for drinking.  These springs can be found, for example, at Rauðamelsölkelda and Lýsuhóll – they are so natural that you may find clumps of algae bobbing on the surface!  Lýsuhóll also has an old pool with warm naturally carbonated, geothermal water, rich in minerals and an amazing treat to visit.
– Last but not least, in June 2008, the people of Snæfellsnes reached certification status as an EarthCheck community becoming the first EarthCheck-certified area in Iceland and Europe and only the fourth in the world. Pure magic.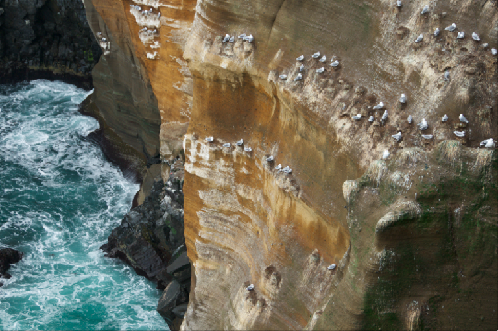 West Iceland Travel
Known for their inviting and friendly manner, the hosts at  West Iceland Travel have excelled in their quest for making tourists feel like old friends rather than strangers.
West Iceland Travel offers seasonally themed day trips where guests visit local farms and get the whole icelandic experience accordingly. Springtime gives opportunities to witness the lambing process, there is the annual sheep roundup in fall, while winter with its twelve yule-lad figures from Icelandic folklore is followed by the midwinter festival called Þorrablót, where the selection of food ranges from rotten shark to sheep testicles.
The trips, filled with all the wonders and surprises of Icelandic history, include gourmet lunches and dinners made from local products, which complete the whole adventure!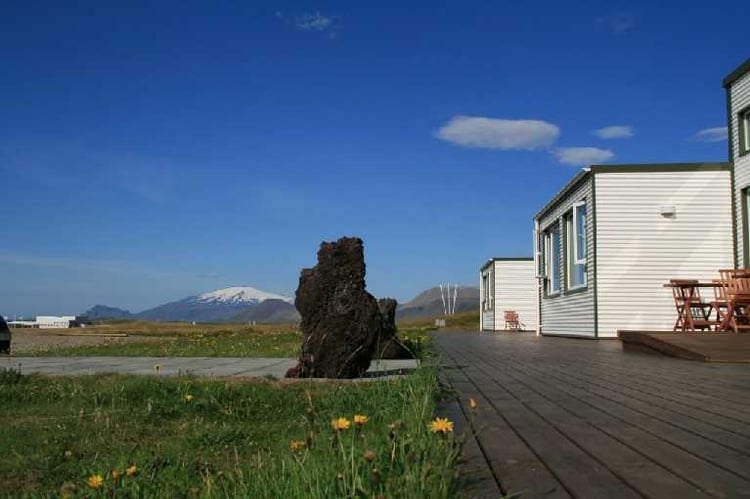 Kast Guesthouse
Popular from the beginning, Kast Guesthouse recently added a whole house to their accommodation! Known for great atmosphere and hospitality, this hidden gem offers both double, triple and family rooms, all spacious yet cosy.
Surrounded by magnificent nature, Kast Guesthouse is close to an old charming pool, Lýsuhólslaug, with naturally carbonated water, rich in minerals and considered both healthy and healing.
 
Lunch and dinner menus have great variety, the breakfast buffet is excellent and if guests are in need of snacks to go – they are ready to order. Emphasis is on regional quality ingredients and baked goodies are all homemade.  Refreshments are offered from morning to evening and the dining area is large enough for up to 60 people.
Emphasising high standards of personal service, the Stóri Kambur horse rental is a family owned business offering short trips for small groups.
Known for their welcoming and friendly demeanour, the guides at Stóri Kambur make visitors feel both secure and comfortable, whether they are accomplished riders, ready to gallop at full speed on the beach surrounded by the magnificent nature, or simply first time riders, children and adults alike. If you are looking to experience the full range of the 5 gaits of an Icelandic horse with tremendous views of a glacier, waterfall, beach, and lush green meadows, this is your best bet.
Groups of up to ten people are perfect and opening hours are from 1 June – 15 September.